Peugeot 208 GTI (2012) first official pictures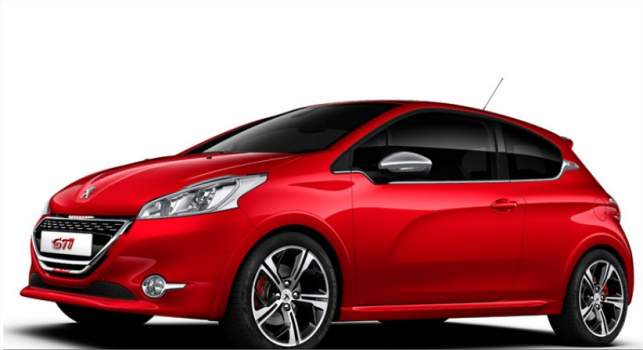 You might well be fed up with Peugeot's recent hot hatch efforts being compared in vain to the iconic 205 GTI, but Peugeot is so confident they've got it right at last with the 208, they're likening it to the iconic Eighties pocket rocket.

Kicking out 197bhp, the 208 GTI is also usefully lighter than its 207 predecessor, helping acceleration and efficiency stats...
Alright then, give me the numbers on the 2012 Peugeot 208 GTI

For the first time in quite a while, it's the weight (or lack thereof) that's the headline number on a new hot hatch, rather than a big power figure. At 1160kg, the 208 GTI is 90kg lighter than the 178bhp 207 GTI, and a cheeky 5kg less than the similarly pokey Citroen DS3 Racing.

Moreover, it's 80kg less than the much-lauded outgoing Renaultsport Clio 200 Cup, which although long in the tooth is still CAR's favourite baby hot hatch. However, Peugeot hasn't skimped on plushness, as we'll discover shortly.

The tracks front and rear have been widened 10mm and 20mm respectively, and there are meaty brakes behind those trendy 17-inch alloys: 302mm discs at the front, cooled by functional vents. The 208 GTI wears 205/45 rubber all round, but you can unstick it by fully disabling the ESP system. Meanwhile, the GTI's suspension has been uprated and the steering recalibrated appropriately.
And what about the 208 GTI's performance stats?

Powered by the same 1.6-litre turbocharged four-cylinder as the top-spec Peugeot RCZ, the 208 GTI will hit 62mph in 'under seven seconds', and in-gear pace isn't bad either thanks to 202lb ft of torque at the driver's disposal.

A fifth gear haul from 50-70mph takes 7.0sec, though overall the car is commendably efficient, with CO2 emissions of 145g/km.
So, it's light and quick enough. But is the Peugeot 208 GTI too pared-back?

Nope, it's actually loaded to the gunwales. The instrument panel is brushed aluminium, there are red highlights aplenty, and natty aluminium pedals. Red stitching also highlights the steering wheel, handbrake and part-leather sports seats.

The dash-dominating touchscreen from the regular 208 reappears, sporting the usual nav and entertainment functionality we're familiar with from the regular Peugeot 208.

Certainly, it's a more exciting cabin than the ClioSport's, but that car's always been about the fun you can have while driving, not while stationary. We'll report back after the first drive to see if the new GTI can topple the hot hatch class best.